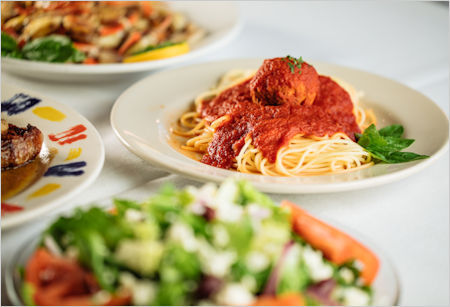 Prego Pasta House
Prego means "Welcome" in Italian. The Barraco family wants you to feel like you're coming back home for a family meal. Just like your Grandma use to make you feel when you came home to visit.
Joe Barraco Sr. opened a grocery store in 1956 at 2919 Bryan St in Dallas. After many successful years in the grocery business, the family wanted to open a restaurant & the original Prego Pasta House opened on Greenville Ave in September 1982. For over 36 years, Prego's is like coming home for a home cooked meal. Rose, Joe's wife brought her family recipes & has passed these secrets on to the Prego's menu.
Prego stills has the successful formula of offering the finest foods available prepared with the best ingredients & highest quality products that we can find. All our home made sauces are made from scratch & without the use of MSG. All our steaks, veal are USDA Choice grade, & we still make our own famous sausage.
The most important factor of lasting 36+years in the Dallas restaurant scene is our customers. We now have had over three generations of amazing customers experience Prego & still are bringing the family to dine with us. We will always promise to see you have courteous service & the amazing foods your family deserves. Come experience the Prego magic & enjoy that family feeling again. Please bring all your friends whom are like your family to enjoy all those great memories.
Contact Form